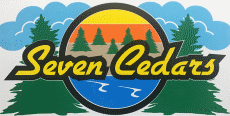 Rural living at its finest!
Welcome to Seven Cedars Living
---
Thank you for your interest in our Seven Cedars Living community. Our goal is to provide comfortable and affordable homes to people looking for a quiet, country atmosphere that's still close enough to town, without the responsibilities of home maintenance.

All of our homes are new, with features and amenities that cater to you, allowing you the opportunity to enjoy your surroundings, take a walk, get to know your neighbors, travel without worry about who's taking care of your home, or just take a break from the responsibilities of maintaining a larger home. Our homes are individual houses with spacious yards in a rural setting, not duplexes or apartments.

Seven Cedars is located west of Jackson, Missouri only 3.8 miles past the Highway 72/34 intersection, just off Highway 72. The homes are available through a yearly lease program and require only a security deposit and the first month's rent to secure.

We've all seen friends, neighbors and maybe even family members that have had to sell their home and move into an apartment or duplex or move in with a family member because they couldn't keep up the maintenance on their home, or maybe the farm just got to be too much to handle on their own. They still want space but just not the responsibility for maintaining it.

If you are thinking of selling your home and making the move to a maintenance free lifestyle, or just need to make a change, come experience affordable comfort in a quiet, country atmosphere with room to roam and freedom to come and go as you please.

Our development is quiet and comfortable with concrete streets that are perfect for walking. Our maintenance crew will plow the snow from the streets and keep the common areas clean and trimmed. Tenants are encouraged to decorate with potted plants and flowers if they wish. People look out for each other and have even created an informal neighborhood watch.

Every home has a covered back porch and sets on an individual lot with a spacious yard perfect for relaxing or entertaining. And all of the lawn maintenance is included at no extra charge.

Our homes are set up on a 12-month lease with a security deposit. The lease is renewable every year. The 3 bedroom homes are currently renting for an affordable $1,250 and the 2 bedroom homes for $1,150 per month which includes water, sewer, trash, all day-to-day maintenance and repairs, all lawn maintenance, and basic cable and high-speed internet. Electricity and gas are the responsibility of the tenant.

Seven Cedars is in a great rural area, just a few minutes from town. We are on the Jackson RII school bus route and just a few minutes from shopping, schools, medical and dental care, and several pharmacies in Jackson. Just down the road is the Millersville Pit Stop, a convenience store and restaurant with good food, fuel and grocery items. As for fire protection, Seven Cedars is equipped with fire hydrants and the Millersville Fire Department is just 1/2 mile west of us.